Ad blocker interference detected!
Wikia is a free-to-use site that makes money from advertising. We have a modified experience for viewers using ad blockers

Wikia is not accessible if you've made further modifications. Remove the custom ad blocker rule(s) and the page will load as expected.
Alexander short for Alexander the great lived (356-323 BC) is a General in the Classical age modpack of call to power 2 he was a king of the Macedonia Civilization. He is a Unique Unit and Cant be Built. Depending on His Condition from having fought in a battle or his age there are different versions of him in the Alexander the Great Scenario. In addition to being a Playable Unit Alexander is also the Name of the Ruler of your Country and puts this Unit into a small Group of units on the game that are National Leaders but also units within their own empires.
Version.......Att.Strength....Defense......Ranged......Damage....Movement......Armor
Regular............30..............30..............0..............2.................6................2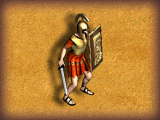 Older................30..............25.............0..............2.................5................2
Tired................25...............25.............0.............2.................4.................2
Weak...............25..............20.............0..............2.................3................2
Decrepid...........20..............20.............0..............2.................2...............2