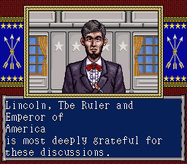 Back to the list of civilizations in Civ1


The Americans are a playable civ in the first game of Civilization, with leader Abraham Lincoln and capital Washington, color pale blue (shared with the Chinese).
On the standard Earth map, they start in the fertile south-east of the U.S.A., with the whole of South America and east Asia vacant and only a 50% chance that there will be Aztecs in Central America.
When played by an AI, Abraham Lincoln and the Americans are most likely to become a democracy and, while they look to expand, they are not overly aggressive.
American cities
Edit
2.New York

3.Boston

4.Philadelphia

5.Atlanta

6.Chicago

7.Buffalo

8.St. Louis

9.Detroit

10.New Orleans

11.Baltimore

12.Denver

13.Cincinnati

14.Dallas

15.Los Angeles

16.Las Vegas