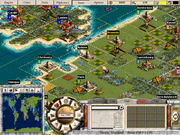 Amiens is an important and strategic city located in France near the border with Belgium and also near the English Channel and bordering the island of Great Britain. The city of Cherbourg borders the city of Amiens to the south west.
The city was first settled in first century BC and had the name of Samarobriva. Around 1000 AD or a little after that the town's name was changed to Amiens and has had this name ever since. The city was attacked by the Germans in 1914 and then occupied by them but they were driven out later. By the time the armistice was signed ending the war, the country of Belgium to the north was not as fortunate and the Germans continued to occupy the country in the 1918 armistice.
Ad blocker interference detected!
Wikia is a free-to-use site that makes money from advertising. We have a modified experience for viewers using ad blockers

Wikia is not accessible if you've made further modifications. Remove the custom ad blocker rule(s) and the page will load as expected.