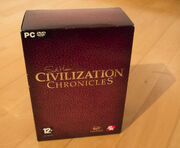 Civilization Chronicles (2006) is a compilation of all the Civ games from Civilization to Civilization 4.
Other material
Edit
The Chronicles of Civilization book, including interviews, artwork and more
Civilization the Card Game, an original tabletop card game by the lead designer of Civ IV
Tech tree posters for Civs I-IV
Podcast MP3s
Wallpaper images
Civ IV soundtrack
Video DVD with the following six videos:
Play Early, Play Often: Prototyping Civ IV (about 1 hour 18 minutes)
Railroads! - Intro Movie (about 2 minutes)
Sid Meier - G4 Icons Special (about 21 minutes)
Warlords Intro Movie (about a minute)
Warlords Walktrough (about 4 minutes)
Warlords - Teleconference (about 4 minutes)
Play Early, Play Often: Prototyping Civ IV
Edit
Other videos
Edit
Ad blocker interference detected!
Wikia is a free-to-use site that makes money from advertising. We have a modified experience for viewers using ad blockers

Wikia is not accessible if you've made further modifications. Remove the custom ad blocker rule(s) and the page will load as expected.