CivWorld
Talk

0
3,043pages on
this wiki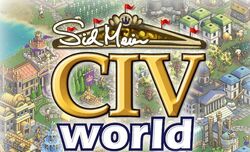 Sid Meier's Civ World or "Civilization World" is a Facebook MMOG (which is now in open beta).
As in other games in the Civilization series, in each game the player progresses from the Stone Age to the Space Age. This time, however, each player is not a separate civilization, but instead each Civilization comprises various player Nations. It is the Civilizations, and not individual players, that compete in four categories: Culture, Economics, Domination and Technology.
Civilizations
Edit
By default, new players are not members of any civilization, and start out as independent Nations. In CivWorld, there are 16 civilizations available to the players:
The civilizations are the major competitors in the game, each of which can comprise more than one Nation (player). Once a player has founded a civilization, any other player can join it. For game balance reasons, the maximum number of players in a given civilization cannot be higher than 20% of total players in the game. If a civilization is full, you need to find another one to join.
Independent players cannot be attacked, but they also cannot unlock most of the achievements nor have access to Civics and Wonders. A player can leave a civilization and become independent again, free to join another one.
The game is divided into a number of Eras:
External links
Edit