Culture (Civ5)
Talk

0
3,057pages on
this wiki

Back to game concepts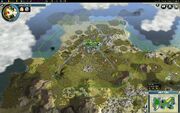 Culture,
, has two main purposes in Civilization V: it expands the borders of your empire and allows you to buy new social policies. Perhaps even most importantly, when you acquire enough culture and enough social policies, you may win the cultural victory.
Culture can be gained in several ways: certain buildings and wonders are the most obvious ones. The following is a comprehensive table of all the buildings that produce culture:
All wonders also produce at least 1 culture per turn but a few produce or may produce more:
The following may also help you acquire more culture:
---

This article is lacking and might not have accurate information on both Civilization V and Gods & Kings. You can help the Civilization Wiki by expanding it. See how to do so here.