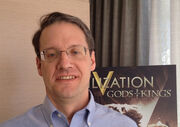 Ed Beach is the lead designer of Civilization VI. He was also the designer for the Civilization V expansions Gods & Kings and Brave New World, and was credited for "Additional Design" on Sid Meier's Civilization: Beyond Earth.
In addition to his contributions to the Civilization franchise, Beach is the designer of Here I Stand and a number of other board games.
External links
Edit
Ad blocker interference detected!
Wikia is a free-to-use site that makes money from advertising. We have a modified experience for viewers using ad blockers

Wikia is not accessible if you've made further modifications. Remove the custom ad blocker rule(s) and the page will load as expected.