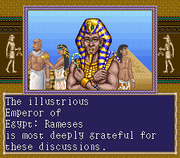 Back to the list of civilizations in Civ1

The Egyptians are a playable civilization in the first game. They are led by Ramesses.
While not overly expansionist, they are capable of keeping up with almost any nation in scientific development, and in the later game they can be among the most difficult civilization to play against.
On Earth, their placement by the Nile makes for a tactically interesting situation, with the bottleneck by the Suez Canal and Sinai area enabling control over Africa, and easy access into the Near East.
Egyptian Cities
Edit
1.Thebes

2.Memphis

3.Oryx

4.Heliopolis

5.Gaza

6.Alexandria

7.Byblos

8.Cairo

9.Coptos

10.Edfu

11.Pithom

12.Busirus

13.Athribus

14.Mendes

15.Tanis

16.Abydos