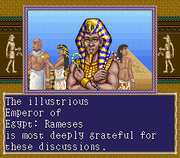 Back to the list of civilizations in Civ1

The Egyptians are a playable civilization in the first game. They are led by Ramesses.
Egyptian Cities:
Edit
1.Thebes

2.Memphis

3.Oryx

4.Heliopolis


5.Gaza


6.Alexandria


7.Byblos


8.Cairo

9.Coptos

10.Edfu

11.Pithom

12.Busirus

13.Athribus

14.Mendes

15.Tanis

16.Abydos
Ad blocker interference detected!
Wikia is a free-to-use site that makes money from advertising. We have a modified experience for viewers using ad blockers

Wikia is not accessible if you've made further modifications. Remove the custom ad blocker rule(s) and the page will load as expected.