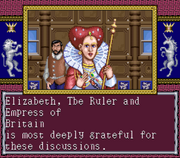 Back to the list of civilizations in Civ1

The English are a playable civ in the first game. They are led by Elizabeth I.
English Cities
Edit
1.London

2.Coventry

3.Birmingham

4.Dover

5.Nottingham

6.York

7.Liverpool

8.Brighton

9.Oxford

10.Reading

11.Exeter

12.Cambridge

13.Hastings

14.Canterbury

15.Banbury

16.Newcastle
Ad blocker interference detected!
Wikia is a free-to-use site that makes money from advertising. We have a modified experience for viewers using ad blockers

Wikia is not accessible if you've made further modifications. Remove the custom ad blocker rule(s) and the page will load as expected.