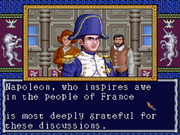 Back to the list of civilizations in Civ1

The French are a playable civ in the first game. Their leader is Napoleon Bonaparte, who appears in many later games.
Playing this civilization on Earth can make for an interesting and high-risk opening, if the Romans and Greeks are also in play. Moving East with the initial settler unit or the first military unit often leads to the early conquest of two rival civilizations.
Napoleon Bonaparte
Edit
Through bold and decisive action, Napoleon rose quickly during the turmoil of the French Revolution. He became part of the ruling Consulate that resulted from a Paris coup and thereafter consolidated power, eventually having himself crowned emperor in 1804. For the next 11 years Europe suffered almost constant war. At its peak the French Empire stretched from Madrid to Moscow. An allied coalition completed the defeat of the French at Waterloo and forced Napoleon into a final exile. The French are conquerors and seek to expand. Perhaps not as dangerous as the Mongols or Russians, they are still a threat that must be watched.
French Cities
Edit
1.Paris

2.Orleans

3.Lyons

4.Tours

5.Chartres

6.Bordeaux

7.Rouen

8.Avignon

9.Marseilles

10.Grenoble

11.Dijon

12.Amiens

13.Cherbourg

14.Poitiers

15.Toulouse

16.Bayonne