Back to the list of civilizations in Civ1

The Greeks are a playable civ in the first game. Their leader is Alexander the Great, who has appeared in most games since.
Alexander the Great
Edit
Alexander inherited the throne of Macedonia in 336 BC and quickly gained control of all Greece. At the head of an allied Greek army, he set out on one of the greatest military campaigns of history. Within twelve years he had conquered the enormous Persian empire to the east, Egypt to the south, and the western part of modern India. Only the reluctance of his men to continue ended the conquests. He died prematurely of fever at the age of 33, but in this short span established himself as one of the greatest generals of all time. If you encounter Alexander and the Greeks, they can be expected to expand aggressively.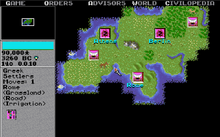 On Earth, the Greeks begin in Europe, often in close proximity to the Germans, Romans, French or Russians. Some exploration with the first settler unit can reap two free cities at the start of the game.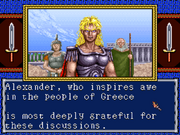 Greek Cities
Edit
1. Athens

2. Sparta

3.Corinth

4.Delphi

5.Eretria

6.Pharsalos

7.Argos

8.Mycenae

9.Herakleia

10.Antioch

11.Ephesos

12.Rhodes

13.Knossos

14.Troy

15.Pergamon

16.Miletos