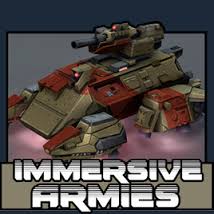 This is a mod created by Ryika that changes unit sizes and formations in order to give military unit a more realistic look.
"Sick of 2 Tank-Sized Soldiers representing a squad? Ever realized that Squad sizes shrink when upgraded while Unit-Sizes grow? Did you notice that most troops basically don't use any formations? No? Well, you should have paid more attention then! But anyway, now that you know how much you dislike these things - I have a solution for these problems! Awesome, right? What a coincidence! 
So here comes Immersive™ Armies, a mod that was created during one long sleepless night, and aims to make armies look more... well. Like armies." - Ryika, Steam Workshop page, http://steamcommunity.com/sharedfiles/filedetails/?id=485135936&searchtext=Immersive
Ad blocker interference detected!
Wikia is a free-to-use site that makes money from advertising. We have a modified experience for viewers using ad blockers

Wikia is not accessible if you've made further modifications. Remove the custom ad blocker rule(s) and the page will load as expected.