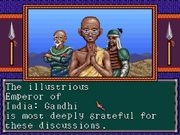 Back to the list of civilizations in Civ1

The Indians are a playable civ in the first game. Their leader is Mohandas Gandhi and they have appeared in nearly every game since.
Indian Cities
Edit
1. Delhi

2.Bombay

3.Madras

4.Bangalore

5.Calcutta

6.Lahore

7.Karachi

8.Kolhapur

9.Jaipur

10.Hyderbad

11.Bengal

12.Chittagong

13.Punjab

14.Dacca

15.Indus

16.Ganges
Note: Punjab is a region and Indus and Ganges are rivers.