Longswordsman (Civ5)
Talk

0
3,043pages on
this wiki
Longswordsman


Melee unit
Game speed


Quick

- Regular -

Epic

-

Marathon

120

21
2
None
Technology
Steel
Resource
Iron
Upgrades to
Musketman
Notes

N/A

Back to the list of units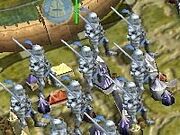 A longswordsman is a standard medieval infantry unit.
Game tactics
Edit
 Before the June 2011 patch Longswordsmen used to have a combat strength of 18, but now have a combat strength of 21. They used to be stronger than musketmen, being two points higher in combat strength. Today, they are three points weaker than musketmen (24). They are weak against mounted units (especially knights) in open terrain, and tend to be severely damaged by powerful siege weapons used to defend cities.
Historical info
Edit
Longswordsmen were common in the middle ages, and they usually wore armour to protect themselves from archers. The sword was held with two hands, and only strong, tough men could wield this weapon. However, these longswordsmen were vunerable to knights.