Home
Talk

47
4,211pages on
this wiki
a collaborative guide and knowledge base that you can edit!
about everything related to Sid Meier's Civilization series of turn-based strategy games
and spin-off games by Sid and others
City-States are small independent political entities introduced in Civilization V, which could be likened in the real world to the small nations of little significance that don't have any ambitions for world domination. In essence, they are single-city civilizations that do not compete against you or for the victory. Although they have the same capacity for producing units and buildings as normal civilizations, as well as technological and even cultural progress, they cannot build Settler units and thus are (almost) never interested in expansion. They do start with a Settler, who founds the city state on the same tile it spawned at the beginning of the game. Unlike the major civilizations, City-States don't have a military unit right at the beginning of the game.
City-States start neutrally-disposed towards everyone, and how you deal with them is your choice - you can coddle them to improve relations, and eventually make them your friends or even allies; or you can capture them (which the Mongolian civilization is especially good at); or you can just choose to ignore them. However, be mindful that they can be of immense help to you in the game, and also you will need them to achieve a Diplomatic Victory.
Create blog post
While waiting for Civilization: Beyond Earth the members of this wiki have been keeping busy with the other games. Recently articles about Civilization Revolution 2 units, buildings and technologies were created. User:Exitwound 45 has been doing a splendid job adding articles about the original Civilization and currently about Civilization III. Keep up the good work everyone!

Read more >

Firaxis Games will host a live video broadcast about Civilization: Beyond Earth tomorrow, August 21, at 6pm UTC (11am PDT / 2pm EDT / 7pm BST). The broadcast takes place at Twitch: http://www.twitch.tv/firaxisgames/ The topic of the broadcast is the seeded start, i.e. when at the beginning of the game you get to choose what was put into your spaceship when it left the Earth.

They'll keep the recording available for watching later if you miss the live broadcast. While waiting for this one, you may want to check out the previous recording from two weeks ago, They're Not Barbarians!, which is all ab…

Read more >

The Sid Meier's Alpha Centauri Wiki is being merged with this wiki! User:Dream Focus is the founder of the SMAC wiki and is now our newest admin here. We are very excited and believe that the communities of both wikis have a lot to gain from this merger. :) Discuss the merger at Forum:Alpha Centauri merger.

Read more >
See more >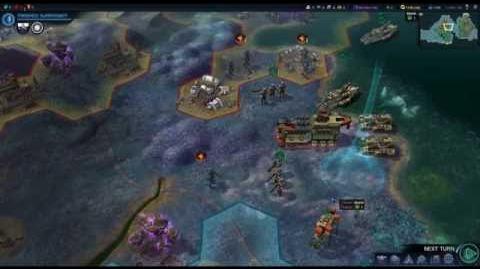 Join the Chat
Check out these other great Civilization community sites as well:
Contribute and help make this the best resource for
Civilization
. Hundreds of
"wanted articles"
as well as ongoing
projects
need just one click to get you going. If what you want to write about is not there, you can start a completely new article (after doing a Search to check that it's not already here under a slightly different name): just enter the title in the box below and click the button.
Not sure where to start?
If you are new to wikis, see Help:Getting Started.