Moscow is an Important city located in what is now the Russian federation.
This settlement began in a place that is now called the kremlin today in the early 1100s AD in 1462 the Russians gained independce from the Mongols but they were called tartars by the Russians. after 1462 the Russians whent on to conquer the entirety of what is now Russian federation by circa 1800. In 1755 a university is constructed "Lomonosov Moscow State University"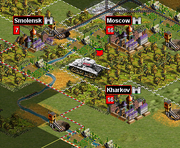 Ad blocker interference detected!
Wikia is a free-to-use site that makes money from advertising. We have a modified experience for viewers using ad blockers

Wikia is not accessible if you've made further modifications. Remove the custom ad blocker rule(s) and the page will load as expected.