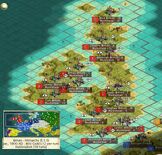 Napoleonic Wars is a scenario for Civilization III: Conquests.
In this scenario, there are seven playable civilizations, including France, Great Britain, Russia, Prussia, Spain, the Ottoman Empire, and Austria. Minor, non-playable civilizations include Denmark, the Netherlands, the Kingdom of Naples, Portugal, and Sweden.
The way to win is to get 60,000 points.
---

This article is as basic as the Warrior! You can help the Civilization Wiki by upgrading it.