Paris is the capital of France and the capital of French civilization. The city has a long history and has risen and fallen over the years in cycles though the various wars that were fought to gain control of this city.
Paris is found on every map that features the nation of France. on WW2/western front scenario, It is an objective city and the Germans get Victory points by conquering it.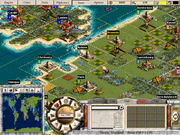 Ad blocker interference detected!
Wikia is a free-to-use site that makes money from advertising. We have a modified experience for viewers using ad blockers

Wikia is not accessible if you've made further modifications. Remove the custom ad blocker rule(s) and the page will load as expected.