For religious promotions, see Apostle (Civ6).
Promotions are special abilities which military units in Civilization VI can earn to enhance their battlefield performance in various ways. Units earn promotions by gaining Experience Points (XP) and levels.
Earning Experience
Edit
Every time a unit enters and survives combat it will gain XP. The exact amount gained differs from the type of combat the unit was engaged in (melee or ranged), and may be further affected by a number of factors. For example, land units trained in a city with an Encampment with specialized buildings in it will earn XP at an increased rate. Check the individual building descriptions for more info on this.
Fighting Barbarians has limited uses: any unit that does so will earn its first level normally, after which for every military encounter it will earn only 1 XP, regardless of type or bonuses!
Leveling Up
Edit
When a unit earns enough XP to level up, a special button will appear in its Command Tab, which will trigger the process. Note that you may delay leveling up as long as you want; however, your unit won't earn new XP until it finishes the level-up process.
Each unit may select from a special promotions table, which is different for every military class (check them out below). Furthermore, the promotions in the table have hierarchical organization, so you will have to progress from lower-tier ones towards the more advanced ones. In general there are two main avenues for advancement, which both lead towards an "uber-promotion."
Upon selecting a promotion, a unit is healed 50 Hit Points and its turn ends.
List of Promotions
Edit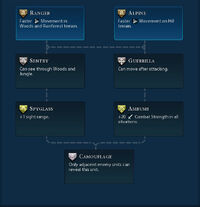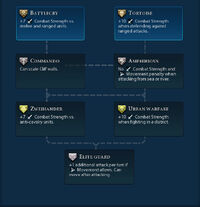 | Tier | Promotion | Effect | Required Promotions |
| --- | --- | --- | --- |
| I | Battlecry | +7 Combat Strength vs. melee and ranged units. | - |
| I | Tortoise | +10 Combat Strength when defending against ranged attacks. | - |
| II | Commando | Can scale Cliff walls. | Battlecry or Amphibious |
| II | Amphibious | No Combat Strength and Movement penalty when attacking from Sea or over a River. | Tortoise or Commando |
| III | Zweihander | +7 Combat Strength vs. anti-cavalry units. | Commando or Amphibious |
| III | Urban Warfare | +10 Combat Strength when fighting in a District. | Commando or Amphibious |
| IV | Elite Guard | +1 additional attack per turn if Movement allows. Can move after attacking. | Zweihander or Urban Warfare |
| Tier | Promotion | Effect | Required Promotions |
| --- | --- | --- | --- |
| I | Volley | +5 Ranged Strength vs. land units. | - |
| I | Garrison | +10 Combat Strength when occupying a District or Fort. | - |
| II | Arrow Storm | +7 Ranged Strength vs. land and naval units. | Volley |
| II | Incendiaries | Plus 7 Ranged strength vs. District defenses. | Garrison |
| III | Suppression | Exercise zone of control. | Arrow Storm or Incendiaries |
| III | Emplacement | +10 Combat Strength when defending vs. city attacks. | Arrow Storm or Incendiaries |
| IV | Expert Marksman | +1 additional attack per turn if unit has not moved (i.e. does not move after making its first attack). | Suppression or Emplacement |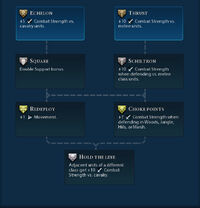 | Tier | Promotion | Effect | Required Promotions |
| --- | --- | --- | --- |
| I | Echelon | +5 Combat Strength vs. cavalry units. | - |
| I | Thrust | +10 Combat Strength vs. melee units. | - |
| II | Square | Double Support bonus | Echelon |
| II | Schiltron | +10 Combat Strength when defending vs. melee class units. | Thrust |
| III | Redeploy | +1 Movement. | Square or Schiltron |
| III | Choke Points | +7 Combat Strength when defending in Woods, Jungle, Hills, or Marsh. | Square or Schiltron |
| IV | Hold the Line | Adjacent units of a different class get +10 Combat Strength vs. cavalry. | Redeploy or Choke Points |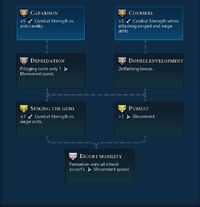 | Tier | Promotion | Effect | Required Promotions |
| --- | --- | --- | --- |
| I | Caparison | +5 Combat Strength vs. anti-cavalry. | - |
| I | Coursers | +5 Combat Strength when attacking ranged and siege units. | - |
| II | Depredation | Pillaging costs only 1 Movement point. | Caparison |
| II | Double Envelopment | x2 flanking bonus. | Coursers |
| III | Spiking the Guns | +7 Combat Strength vs. siege units. | Depredation or Double Envelopment |
| III | Pursuit | +1 Movement. | Depredation or Double Envelopment |
| IV | Escort Mobility | Formation units all inherit escort's Movement speed. | Spiking the Guns or Pursuit |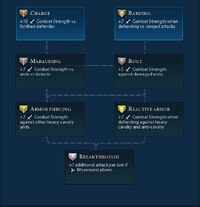 | Tier | Promotion | Effect | Required Promotions |
| --- | --- | --- | --- |
| I | Charge | +10 attack vs. fortified defender. | - |
| I | Barding | +7 defense vs. ranged attacks. | - |
| II | Marauding | +7 Combat Strength vs. units in District. | Charge or Rout |
| II | Rout | +5 Combat Strength against damaged units. | Barding or Marauding |
| III | Armor Piercing | +7 Combat Strength against other heavy cavalry units. | Marauding or Rout |
| III | Reactive Armor | +7 Combat Strength when defending against heavy cavalry and anti-cavalry. | Rout |
| IV | Breakthrough | +1 additional attack per turn if Movement allows. | Armor Piercing or Reactive Armor |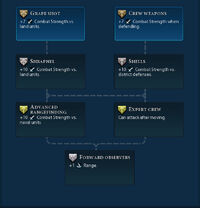 | Tier | Promotion | Effect | Required Promotions |
| --- | --- | --- | --- |
| I | Grape Shot | +7 Combat Strength vs. land units. | - |
| I | Crew Weapons | +7 Combat Strength when defending. | - |
| II | Shrapnel | +10 Combat Strength vs. land units. | Grape Shot |
| II | Shells | +10 Combat Strength vs. District defenses. | Crew Weapons |
| III | Advanced Rangefinding | +10 Combat Strength vs. naval units. | Shrapnel or Shells |
| III | Expert Crew | Can attack after moving. | Shrapnel or Shells |
| IV | Forward Observers | +1 Range. | Advanced Rangefinding or Expert Crew |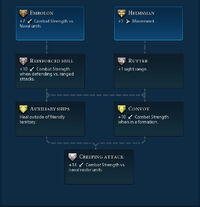 | Tier | Promotion | Effect | Required Promotions |
| --- | --- | --- | --- |
| I | Helmsman | +1 Movement. | - |
| I | Embolon | +7 Combat Strength vs. naval units. | - |
| II | Rutter | +1 Sight range. | Helmsman |
| II | Reinforced Hull | +10 Combat Strength when defending vs. ranged attacks. | Embolon |
| III | Convoy | +10 Combat Strength when in a formation. | Rutter or Reinforced Hull |
| III | Auxiliary Ships | Heal outside of friendly territory. | Rutter or Reinforced Hull |
| IV | Creeping Attack | +14 Combat Strength vs. naval raider units. | Convoy or Auxiliary Ships |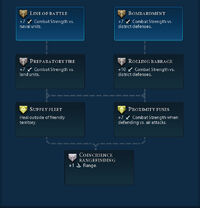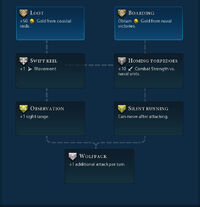 | Tier | Promotion | Effect | Required Promotions |
| --- | --- | --- | --- |
| I | Loot | +50 Gold from coastal raids | - |
| I | Boarding | Obtain Gold from naval victories | - |
| II | Swift Keel | +1 Movement. | Loot or Homing Torpedoes |
| II | Homing Torpedoes | +10 Combat Strength vs. naval units. | Boarding or Swift Keel |
| III | Observation | +1 Sight Range. | Swift Keel |
| III | Silent Running | Can move after attacking. | Homing Torpedoes |
| IV | Wolfpack | +1 additional attack per turn. | Observation or Silent Running |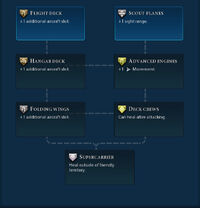 | Tier | Promotion | Effect | Required Promotions |
| --- | --- | --- | --- |
| I | Flight Deck | +1 additional aircraft slot | - |
| I | Scout Planes | +1 Sight range | - |
| II | Hangar Deck | +1 additional aircraft slot | Flight Deck |
| II | Advanced Engines | +1 Movement | Scout Planes or Hangar Deck |
| III | Folding Wings | +1 additional aircraft slot | Hangar Deck |
| III | Deck Crews | Can heal after attacking | Advanced Engines or Folding Wings |
| IV | Supercarrier | Heal outside of friendly territory | Deck Crews or Folding Wings |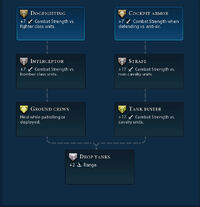 | Tier | Promotion | Effect | Required Promotions |
| --- | --- | --- | --- |
| I | Dogfighting | +7 Combat Strength vs. fighter class units. | - |
| I | Cockpit Armor | +7 Combat Strength when defending vs. anti-air. | - |
| II | Interceptor | +7 Combat Strength vs. bomber class units. | Dogfighting |
| II | Strafe | +17 Combat Strength vs. non-cavalry units. | Cockpit Armor |
| III | Ground Crews | Heal while patrolling or deployed. | Interceptor |
| III | Tank Buster | +17 Combat Strength vs. cavalry units. | Strafe |
| IV | Drop Tanks | +2 Range. | Ground Crews or Tank Buster |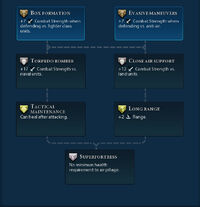 | Tier | Promotion | Effect | Required Promotions |
| --- | --- | --- | --- |
| I | Box Formation | +7 Combat Strength when defending vs. fighter class units. | - |
| I | Evasive Maneuvers | +7 Combat Strength when defending vs. anti-air. | - |
| II | Torpedo Bomber | +17 Combat Strength vs. naval units. | Box Formation or Evasive Maneuvers |
| II | Close Air Support | +12 Combat Strength vs. land units. | Box Formation or Evasive Maneuvers |
| III | Tactical Maintenance | Can heal after attacking. | Torpedo Bomber |
| III | Long Range | +2 Range. | Close Air Support |
| IV | Superfortress | No minimum health requirement to air pillage. | Tactical Maintenance or Long Range |