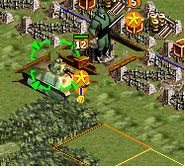 The Somua 1935 is a powerful tank. It is a very fast tank compared to the German ones and is the best tank that the French had when WWII broke out. Their other tank is the R-35. This type of tank was not retired from service till the year 1945 - lasting till the end of WW2, which is roughly 10 years of duty helping out in the defense of France.
Ad blocker interference detected!
Wikia is a free-to-use site that makes money from advertising. We have a modified experience for viewers using ad blockers

Wikia is not accessible if you've made further modifications. Remove the custom ad blocker rule(s) and the page will load as expected.