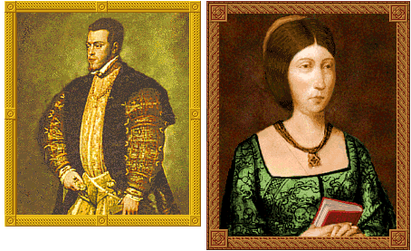 The Spanish are a playable Civilization in Civilization II.
Color: yellow
Leaders: Philip II (male), Isabella (female)
Capital: Madrid
In the World War 2 scenario they are well up in the advances line but weak in military terms. The Spanish control the region of Portugal including the city of Lisbon.
Game Strategy
Edit
Civilopedia Entry
Edit
City-Names List
Edit
Seville
Toledo
Cordoba
Valencia
Salamanca
Barcelona
Valladolid
Saragossa
Cadiz
Bilbao
Malaga
Pamplona
Vigo
Avila
Leon
Burgos
Oviedo
Santander
Ciudad Rodrigo
Calatrava
Cartagena
La Coruna
San Sebastian
Palma
Lerida
Alicante
La Linea
Porto
Murcia
Albacete
Melilla
Tangiers
El Ferrol
Gijon
Tarragona
Monterrey
Buenos Aires
Santiago
Rio de Janeiro
Montevideo
Santos
Sao Paulo
Salvador
Caracas
Manilla
Havana
Santo Domingo
San Jose
Managua
Ciudad Victoria
San Juan
---

This article is as basic as the Warrior! You can help the Civilization Wiki by upgrading it.