Trading Post

Worker improvement

Requires

Guilds

Effect
Improves

N/A

Back to the list of improvements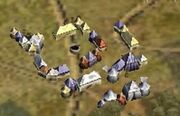 Game Info
Edit
Advanced trading improvement. Requires Trapping (Guilds in Gods & Kings and Brave New World).
Constructed on:
Effect:

+1 Gold
+1 additional Gold after researching Economics
Trading Posts are excellent improvements to build when you need to bolster your empire's economy. If you have a lot of jungle tiles in your borders, it's a great idea to build these improvements in the jungles instead of cutting them down. Your Workers won't have to remove the jungles to construct Trading Posts, and the jungle tiles will give you

 Science once you have Universities. With the bonuses from the Commerce finisher and the Free Thought social policy, Trading Posts can be incredibly effective when combined with jungles.
Note that while Trading Posts can be built without cutting down jungles, they cannot be built on tiles that contain Bananas.
In the expansion packs, the prerequisite technology for Trading Posts changes from Trapping to Guilds, a Medieval Era tech.
Historical Info
Edit
Trading Posts are outposts where hunters and trappers may sell their wares to civilians in exchange for food, weapons, whiskey, gold, and all of the other trappings of society. They can generate a lot of wealth for a society.
Ad blocker interference detected!
Wikia is a free-to-use site that makes money from advertising. We have a modified experience for viewers using ad blockers

Wikia is not accessible if you've made further modifications. Remove the custom ad blocker rule(s) and the page will load as expected.