Ad blocker interference detected!
Wikia is a free-to-use site that makes money from advertising. We have a modified experience for viewers using ad blockers

Wikia is not accessible if you've made further modifications. Remove the custom ad blocker rule(s) and the page will load as expected.
Sriwijaya, The largest Empire at Indonesia and Nusantara. at 700 AD Sriwijaya was Build. first the city at Muara Takus river. Now Palembang at Sumatera island was the Big city of Sriwijaya.The Great from Sriwijaya is Raja Balaputeradewa. the empire very large form JAWA TIMUR to Kamboja. All sriwijayan people was Death when Mahapatih Gajah mada form Majapahit was attack and the Sriwijaya lost.
I want in Civ 6 or civ 5 (mod For Civ 5 G&K) have large map of the world and in Indonesia have 2 Kingdom
City: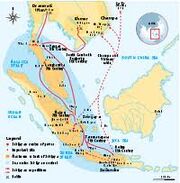 Palembang (capital)
lhoksumawe

muara takus
mataram
Kutai
Malaka
bangka
Sriwijaya

Sriwijaya
name of Civ
Srivijava
leader
balaputeradewa
army
Cavalry Archer,KAVALARI TOMBAK (Knights),Kapal

Building

Grand Harbour (more trade Routes,can build in Capital)
Ability
Empire Budhist Melayu Maritime
religion
Budhist,Hindis,Melayuan dinamisme

Emblem:

Teratai Sriwijaya

Melayu
no monument but
Muaro Jambi Temple
Style
Indian style + Chinnese style Building