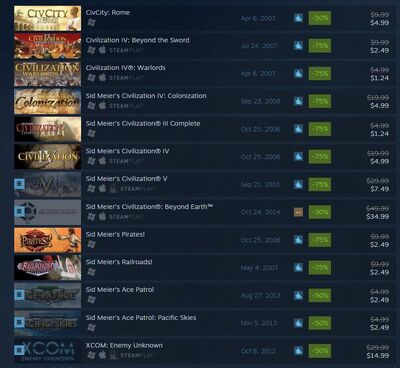 Deals, ahoy! Steam's latest sale, dubbed the Steam Exploration Sale, is in full effect until December 2 at 10am PT. A plethora of deals are available to peruse but, for the discerning Civilization fan and denizen of this fine Internet Webspace, there are discounts extended across the entire Civilization series. So if Beyond Earth is your first foray into the lauded Civilization series, now's a good time to take a trip back in time (Delorean not included) and sample previous Civilization games.
Head on over to Steam for Massive Dealz or consult the screenshot included in this post for an at-a-glance look at what's on offer. 
Ad blocker interference detected!
Wikia is a free-to-use site that makes money from advertising. We have a modified experience for viewers using ad blockers

Wikia is not accessible if you've made further modifications. Remove the custom ad blocker rule(s) and the page will load as expected.