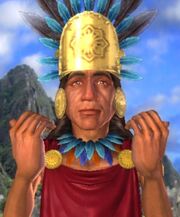 Hi, welcome to the Civilization Wiki! Probably nobody has yet looked at your edit to the File:Elizabeth (Civ1).png page. It is live already, but you can expect it to be soon reviewed by one of our more experienced editors.
Now please take a few minutes to get to know the wiki: some instructions, guidelines and conventions are listed at the Civilization:Community Portal page.
Then please tell us something about yourself by editing your user page! At the very least, you should tell people which games you play, using a "User Box" or two or more - see Civilization:Userboxes.
When posting messages to talk pages or forum pages, please sign your posts with four tildes: ~~~~ That will automatically expand to your user name with a timestamp.
The Special:RecentChanges page is an excellent way of seeing what's being done right now.
For general discussions and questions about this wiki or any game, see the forums.
You also have a personal blog that you can use, for example, to share stories about your Civ games and the other games we cover. :)
Please leave a message on my talk page if I can help with anything! Robin Patterson (talk) 12:51, January 21, 2014 (UTC)
Civ games
Edit
I have been playing "Civ" for about 20 years. Most of my strategy games recently have been C-evo, which I recommend to anyone who likes turn-based strategy games; it's free!
-- Robin Patterson (Talk) 19:46, January 21, 2014 (UTC)