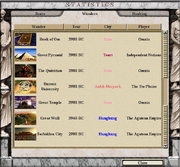 Wonders in Call to Power II are symbols of national honor. The more wonders your civilization have built or taken control of the more victory points you will have accumulated at the end of the game. Each wonder you control is worth 500 Victory Points.
List of Wonders
Edit
Notes on Wonder Nationality
Edit
Ad blocker interference detected!
Wikia is a free-to-use site that makes money from advertising. We have a modified experience for viewers using ad blockers

Wikia is not accessible if you've made further modifications. Remove the custom ad blocker rule(s) and the page will load as expected.